If you grew up in the 90's (like myself), then Sailor Moon should come to the forefront of your mind when you think back to that time period. You know…along with Pokemon, Digimon, CardCaptor Sakura, Yu-Gi-Oh!, Dragonball…so on and so forth. All quintessential anime for us older folk (now).
But Sailor Moon!
Sailor Moon was EVERYTHING to me as a young girl. I didn't want to be a Disney princess, I wanted to be a Sailor Scout. Don't get me wrong, I loved all of the Disney princesses as well but not as much as I loved Sailor Moon. I STILL LOVE SAILOR MOON! I have a Luna tattoo (I plan to get a few more Sailor Moon pieces), several wall scrolls, key chains, plushies, a huge sticker on the back of my car, odds and ends of all Sailor Moon merch. You can say I'm a pretty loyal fan.
Fun fact: Sailor Moon only ranks #3 on my top 10 anime list.
I have a ton of Sailor Moon stuff because the anime is so iconic. Hence why it is easier to get your hands on certain items. That's why you also see a ton of Dragonball and Pokemon stuff.
I wanted to share with you guys how my love for Sailor Moon came to be. Last year I was featured on the Facebook page Sailor Moon: The Mooniverse (which you can find here: https://www.facebook.com/sm.mooniverse/). It was under the section Moonie Memories. They featured my little tidbit and I was GUSHING with excitement! I mean 34,683 people follow the page, so of course I was happy my story got shared. And now I am going to share it with all of you on here! Yippee!
---
So here it is!
"Tonight I was hit with a case of Sailor Moon nostalgia when my sister gave me a new wall scroll to add to my collection. I have been a Sailor Moon fan ever since I can remember. (Please don't hate me because I haven't read all the actual manga yet! I should have a long time ago. XD) When Sailor Moon was broadcasted in America, I was only two years old. It would be a few years before I stumbled upon the show and could comprehend what was going on. My earliest memories of Sailor Moon were getting up early mornings to watch the show along with my other favorites like Card Captors Sakura, Pokemon, Digimon, and Monster Rancher.
I think I fell in love with anime the moment I started watching it. It was even more so when I found Sailor Moon. I used to have a Barbie like version of Usagi that I carried around with me everywhere. I think I even took pictures with her! She was hands down my favorite toy when I was about 8 or 9. Then I remember getting my first wall scroll. We were shopping in the mall where I grew up, and I think we walked into Suncoast Video (when that store was around). I saw it hanging there in all its glory; a picture of Neo-Queen Serenity hugging a crying Chibiusa with Crystal Tokyo in the background. I knew I had to have it. Luckily I was a good kid, and my parents bought it for me. I remember my Dad hanging it up in my room and me staring at it with awe. It's like I worshiped it with my very existence.
I think another favorite memory of mine was getting Sailor Moon R, S, and Super S on VHS. It was like hitting the jackpot. I waited and waited for those movies to come out. They were so precious and dear to me. I think I must have watched them a million times. I don't ever recall what happened to them; maybe they got lost in the Negaverse! I think what I loved about Sailor Moon the most (besides the romance with Mamoru) was the bonds of friendship and love. Sailor Moon taught me that love knows no bounds, whether you love a man or a woman. That friendship can outstand even the evilest parts of life.
Usagi might have been a whiny cry baby, but she was Earth's greatest guardian. She didn't have a real sense of purpose until she found out she was the reincarnation of Princess Serenity, but that didn't stop her from trying. She was amazing at forging bonds with the people around her and making them feel good about themselves. She wanted everyone to know that they had a special place in life. I also really loved the idea that every villain could be saved. No matter how wretched or cruel they were to Sailor Moon, she wanted to save them with her love. Sailor Moon knew that no matter how deep they were into the darkness she could always bring them back. She knew that people went through pain, loneliness, and heartbreak. Life was just simply made that way, but she always told her enemies that with love, kindness, and friendship she would defeat them. That is the true definition hero to me.
Sailor Moon didn't need a man to save her (while in some cases Mamoru did) but to support her in her journey. Sailor Moon was an empowering woman who took down her enemies with love and justice. I always dreamed of one day becoming Neo-Queen Serenity, and I still do. She was beautiful, strong-willed, determined, regal, and kind (but also stern 
). Neo-Queen Serenity was the quintessential role model for me growing up, but what took me so long to realize was that Sailor Moon/Princess Serenity was the one I should aim to be. Neo-Queen Serenity was just the future form of Sailor Moon. So while I sit here to this day, daydreaming of becoming Neo-Queen Serenity I have to remember that right now I am Sailor Moon fighting my everyday battles with love, determination, and hope that someday I can be the queen I so admire."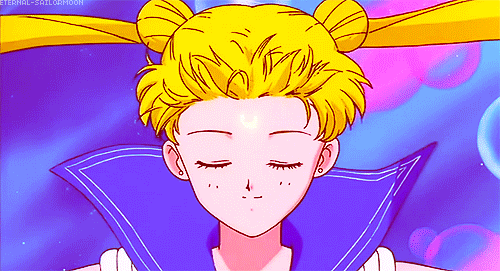 ---
I hope you guys enjoyed my story! It's always nice when you get a little more insight on the people that you follow. It feels like you get to know them more on a personal level. Do you guys have any fond memories of Sailor Moon? If so what are they? or if you would like to share your story on how you fell in love with Sailor Moon then feel free to leave it down in the comments section! 🙂
---
Disclaimer: All imagery and photos come from searching for them on the internet. I have no claim or right to them. If I find any links I will always post them (this usually entails fan art or any other work affiliated with an artist).