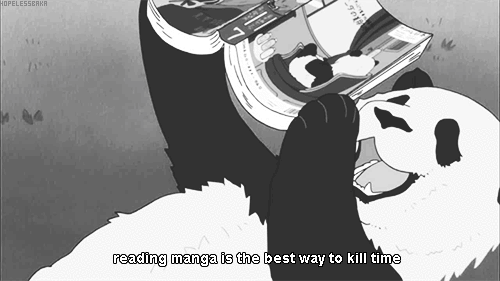 First of all…shout out to Animeushi for having the same featured image! It's hard trying to find a cover photo that is clear, concise, and fits within the allotted box frame…so I hope you don't mind me using the same one. Tehehe XD
This new format makes me flounder from time to time, but usually I can find an image that works right off the bat. Anywho, most of you guys know that one of my goals for 2018 was to read more manga and HERE WE ARE! We are back for another lovely round of Top Ten Tuesday, where today's post will consist of the ten manga series I want to read this year. Some of these are continued series since I have read the first volumes already and just plan on reading the rest.
So lets dive right in and kick things off with one of my favorite anime shows from last year Houseki no Kuni (Land of the Lustrous)!
1. Houseki no Kuni (Land of the Lustrous)
I have read the first volume of Houseki no Kuni and I actually have the second/third volumes sitting on my bookshelf. I just need to take time out of my day to actually start the other two! I've been slacking on my reading skills. Someone just give me a swift kick in my ass as a reminder to read more please 😛
---
2. Totsukuni no Shoujo (The Girl From The Other Side: Siúil A Rún)
Another manga series where I have read the first volume of the story! I need to pick up the rest of the translated volumes. I think the English translations go all the way up to (at least) volume 4 or 5? That is what Amazon is showing. I usually buy my manga from Barnes and Noble online. Looks like volumes 4 and 5 are on preorder right now and will be out in fall!
---
3. Koi wa Ameagari no You ni (After the Rain)
I will probably just end up reading Koi wa Ameagari no You ni (After the Rain) online. I like having the physical copy in my hands but I can't seem to find the first volume online. Does anyone know where I might be able to buy this one? I know Book Walker just sells digital copies and not actual book versions. I want the manga in my hands!!!
---
4. Nagi no Asukara (A Lull in the Sea)
I think it would be fitting to read one of my all time favorite anime's actual manga series! I'm literally surprised at myself for not reading Nagi no Asukara sooner. I love this anime oh so much! It is my #1 spot for favorite anime series (but I am still waiting to see if Violet Evergarden will beat it out). I definitely have to read it this year! Mark my words.
---
5. Sailor Moon
Surprise, surprise! I have never read any of the Sailor Moon manga's! *Please don't kill me* I have been wanting to for the last few years, but if I'm going to do so I'm going to buy the bundle pack of the manga's and not just the individual ones. That way I can sit down and read them one after the other. I hate breaking up series because some of the volumes aren't available in English (e.x. my problem with Houseki no Kuni).
---
6. Kuzu no Honaki (Scum's Wish)
Can you guys tell I like drama? Loloz…I LIVE for anything dramatic and over the top. Seems to be my specialty these days. It shouldn't come as a surprise that I want to read Kuzu no Honkai (Scum's Wish). I fell in love with the anime and I hear the manga is quite good. I look forward to reading it!
---
7. Wolf Children: Ame & Yuki
I have had my eye on the Wolf Children manga for quite some time now. I always look at it when I go into Barnes and Noble. I mainly just want it for my collection but I think I'll read it so I can compare it to the movie. I love seeing the differences between book/manga and movie. The book version of Howl's Moving Castle was waaayyy different than the anime film, but I also have to remember that the movie was "loosely" adapted from the novel.
---
8. 3-gatsu no Lion (March Comes in Like a Lion)
Uh…I don't even have to explain why I want to read this manga. 3-gatsu no Lion is a masterpiece anime! If you haven't started watching it then you must be living under a rock. Go watch it NOW!
---
9. Shouwa Genroku Rakugo Shinjuu
Another masterpiece anime! I really really want to read the manga after seeing how amazing the show was. Shouwa Genroku Rakugo Shinjuu is top notch in terms of story-line and character development. I highly recommend this series as well ❤
---
10. Chobits
Last but certainly not least is Chobits! I feel like I have to thrown in another "older" manga series into the mix. Sailor Moon can't be the only OG manga I read. Plus Chobits is cute, and fun, and I love the manga art style. It's super pretty! I think it will be a nice addition to my manga reading list.
---
Do you have any manga series you will be reading this year? If so, what are they? Does anyone want to do a read along with me on any of these choices? We can even do a Q & A collab post once the manga is completed. I think it would be super fun to do! Let me know if you are interested in doing so! 😉
---
Disclaimer: All imagery and photos come from searching for them on the internet. I have no claim or right to them.