If any of you have been following me for awhile now (then some of you) know I used to do book blogging before I switch over to the anime community. I even have a bookstagram account over on Instagram (which I need to revamp and make into an anime account instead). I took a lot of really cool book photos and even did book reviews as well. Books have always been my other love. I have always enjoyed reading as a child and I don't think I will ever stop loving books…though I have been neglecting my reading for a few months now. Manga counts as reading right? Right!
So, it is safe to say I still dabble in the book community, mainly the young adult genera (because I'm still a bratty child on the inside). I don't keep up with bookstagram like I used to but I do still follow quite a bit of book blogs here on WordPress. One of these book blogs is called Paper Fury. Cait is a charismatic and witty blogger from Australia, who I strive to be like. Not in the sense of being an author, but in the way of being an excellent blogger. Her blog is hilarious, and it has this quintessential charm to it. It is unlike any other blogger I have come across. She is literally her authentic self and I admire that about her. She puts everything out into the blogosphere with passion and resilience. That is what every blogger should aspire to be like!
Anywho, enough of praising miss Cait (even though she deserves all the praise in the world). I am writing today's post because of Cait's new book (which is coming out in June of this year). It is titled A Thousand Perfect Notes and it will be published by Orchard Books. Here is what the book will look like:
(Photo credit to Cait's website Paper Fury)
I was ecstatic to hear that Cait was coming out with her own novel! I think it will be such a cool experience reading a fellow bloggers personal work. It kinda makes you feel like you are connected to them even when you live so far apart. I am very very excited to read Cait's book to say the least, but as I was reading her book's summary I thought to myself, "haven't I seen this plot done somewhere else?" Here is the book synopsis for A Thousand Perfect Notes:
"Beck hates his life. He hates his violent mother. He hates his home. Most of all, he hates the piano that his mother forces him to play hour after hour, day after day. He will never play as she did before illness ended her career and left her bitter and broken. But Beck is too scared to stand up to his mother, and tell her his true passion, which is composing his own music – because the least suggestion of rebellion on his part ends in violence.
When Beck meets August, a girl full of life, energy and laughter, love begins to awaken within him and he glimpses a way to escape his painful existence. But dare he reach for it?"
---
Doesn't this plot sound eerily familiar to the anime Shigatsu wa Kimi no Uso (Your Lie in April)?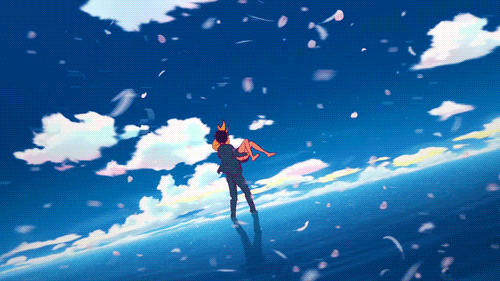 You know, that one that broke all of our hearts into tiny little pieces? Yeah, that's the one! Here is the synopsis for Shigatsu wa Kimi no Uso (Your Lie in April): 
"Piano prodigy Kōsei Arima dominated various music competitions and has become famous among child musicians but also controversial. After his mother, who was also his coldhearted, abusive instructor who forced him to play the piano emotionlessly, died, he had a mental breakdown while performing at a piano recital at the age of eleven. As a result, he is no longer able to hear the sound of his piano even though his hearing is perfectly fine.
Two years later, Kōsei hasn't touched the piano and views the world in monochrome, without any flair or color, resigning himself to living out his life with his good friends, Tsubaki and Watari, until, one day, a girl changes everything. Kaori Miyazono, an audacious, free-spirited, fourteen-year-old violinist whose playing style reflects her manic personality, helps Kōsei return to the music world and shows that it should be free and mold-breaking unlike the structured and rigid style Kōsei was used to, and as she continues to uplift him, he quickly realizes that he loves her."
There are some minor differences in the synopsis, but essentially these two stories share similarities. Similarities occur in every form of media though; from movies and books to anime and TV shows. It is going to happen! I don't mind that these two forms of media are pretty similar, I'm still going to read Cait's book to support her. I just wanted to bring this to your attention in case you guys liked reading as well! I think it would be awesome for us to rally behind Cait and buy her book. Us fellow bloggers need to stick together!
---
Do you guys think A Thousand Perfect Notes will turn out like Shigatsu wa Kimi no Uso (Your Lie in April) or have a different ending? Are you interested in reading A Thousand Perfect Notes now that you know about it? What is your take on stories that sound alike? Let me know all your thoughts, comments, and opinions down below in the comments section! ❤
P.S. Don't forget to follow the magical and mystical Cait over at Paper Fury! Just click here: https://paperfury.com/
---
Disclaimer: All imagery and photos come from searching for them on the internet. I have no claim or right to them.