October is officially over.
It seems like it was just yesterday that 2018 was starting and here we are now at the beginning of November. WHERE THE HELL HAS MY YEAR GONE?! Like…for reals. I wanna know what the eff I've been doing this year to get to this point??? Oh that's right! Changing jobs, starting a new relationship, trying to finish my degree. You know…typical bad girl shit…or I should say being a "normal functioning adult." We'll use that term lightly on this blog cause sometimes you just have to be a kid from time to time.
The best part of it being November though? You guessed it my pandas! It's Featured Creator Month once again! YAAASSS.
Our first interviewee of the month is none other than the beautiful Simply Rose! You may know her on Twitter as SimplyyRosee or on IG at justsimplyrose. Rose is a Youtuber and Cosplayer who creates some of the best otaku content I've ever laid eyes on. I've been fortunate enough to get acquainted with Rose over the last few months and I am oh so glad I did! She was the very first person I had in mind when I wanted to bring this series back for the month of November. Cosplay is a HUGE part of otaku culture and I wanted to feature more cosplayers on my blog since I have only touched on this topic a few times. Cosplayers need love too! ❤
You can find her YouTube channel here: https://www.youtube.com/channel/UCQ5CHlkv3js9DA70UsTmIGw. Don't forget to hit that subscribe button and notification bell to be notified when Rose uploads her next video!
Here are a few cosplay looks Rose has done over the course of her career:
And now it is interview time! Grabbed your cosplay costumes and wigs peeps cause things are about to get W.I.L.D 😀
---
1. What was the first memory of cosplay? Did you see any cosplays as a kid or did you not get into it until later on?
Rose: My first memory of cosplay was at my very first convention when I didn't even know cosplaying was a thing. I can't remember the name of the convention since it was a long time ago but I was around 13 years old, and I remember seeing people dressed up and thought it was cool. While I saw it when I was younger, I didn't start seriously cosplaying until I was much older.
2. If you could give others cosplay building/creating advice what would it be?
Rose: I've done a few videos on advice for cosplay building/creating and honestly my biggest piece of advice would be to pick a character that you're passionate about. If you love the character, there's more of a desire to do it justice and represent that character as best as you can. Besides that, my biggest piece of advice would be to PLAN! Planning is a huge part of creating a cosplay and really makes the process that much easier. Plan when you need to get it done by, plan what you need to order, plan how you're going to make it. The task of creating a cosplay doesn't seem as daunting once you have everything planned out.
3. Who is your dream cosplay character?
Rose: My dream cosplay character would be Sylvanas Windrunner from World of Warcraft. I fell in love with her while playing WoW and have wanted to cosplay her ever since. I love her designs very much and I'd love to do a full armor build for her. She's a character that would take a lot more time and money than I currently have, so I would love to have a chance to cosplay her one day.
4. What are your thoughts on people creating their cosplay costumes from scratch vs buying premade cosplays?
Rose: Cosplay is cosplay! I don't look at cosplayers any differently based on whether or not they have made their cosplay. I've seen amazing cosplayers who have made their cosplays and I've seen amazing cosplayers who have bought their cosplays. I myself have done both! There was definitely a stigma attached to buying cosplays, but I think it has calmed down recently. I really do admire cosplayers who make all their cosplays though. Some people have a talent for it and some would rather just buy cosplays. I just think it's silly that people would think that just because someone has bought a cosplay it makes them less of a cosplayer. Cosplay is for everyone!
5. Do you have any favorite big time cosplayers?
Rose: Kamui Cosplay (Svetlana Quindt) is one of my favorite cosplayers. Her armor builds are insane and I can't get over how talented she is! She's also a super awesome resource for people either just starting cosplay or people who have been cosplaying for a while. She has a lot of tutorials that she has made as well as books so I definitely recommend checking her out! Another one of my favorite cosplayers, who isn't necessarily "big-time" is The Alchemic Fox. I've followed her for a while now and watch her videos. She's super sweet and super talented!
6. Where do you draw inspiration from? Is just anime/manga or whatever you can think up?
Rose: I mostly draw inspiration from anime but sometimes games as well. I honestly just pick characters that I love or admire and do my best to portray them as well as I can! I sometimes like to think up my own designs of characters, for example my human No Face from Spirited Away. I had seen people cosplay their own versions of human No-Face so I wanted to do my own version as well!
7. What has been your favorite cosplay so far?
Rose: My favorite cosplay that I've done so far is probably Princess Mononoke. She means so much to me as a character and I was so happy to finally be able to cosplay her. She's such a great female character and had been a cosplan of mine for a while. I was super excited when I finally had a chance to cosplay her. Even though I've already cosplayed her, she's still a work in progress. I've already had to change some things and I still want to change more so that she's perfect.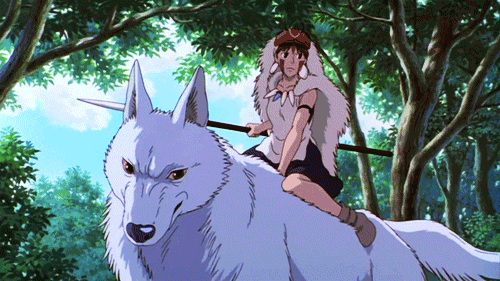 8. We have seen your mom in a few of your videos on YouTube and she seems pretty supportive of your endeavors. What does your mom think of everything (i.e. you cosplaying/being into anime)?
Rose: I love my mom so much! My mom is super supportive of everything I do and I'm so blessed for that. I've watched anime since I was young so it's not anything new for her. She actually watches anime with me sometimes! hahaha…As for cosplay, my mom is my cosplay partner. She helps me with all my cosplays. She has pulled all-nighters with me before just so that I could wear a cosplay to a convention (pro tip: don't do this! Please avoid con crunch XD). I just feel super lucky to have a mom who's so supportive of everything I do. Thanks mom!
9. How do you feel about the otaku/cosplay community as a whole?
Rose: The otaku/cosplay community can be both a wonderful and toxic community. I have met some of the nicest people through the communities, but I have also seen some pretty toxic behavior. I'm not going to go into the toxicity that can occur, but I'd like to highlight the wonderful parts of these communities! I am blessed to have joined these communities and find people that enjoy the same things I do. I have made so many wonderful friends and I'm so happy to know people that love and feel passionate about the same things I do. They are the most encouraging people and it's crazy how you can form such a strong supportive friendship with someone you haven't even met in person.
10. What are some of your favorite hobbies outside of cosplaying?
Rose: Gaming is definitely one of my favorite hobbies besides cosplaying. My brother and I used to play video games when we were younger and I just never stopped. I also really enjoy reading, though I will admit I haven't been doing as much as I would like to recently. I also love photography and hanging out with friends!
Bonus Question: If you could swap two anime/manga characters (so they end up in each other's shows/stories) who would you switch and why?
Rose: I would love to put Light Yagami in Sailor Moon and Usagi in Death Note, because I think that'd be hilarious! They're both just complete opposites in who they are as characters so that'd just be comical to watch.
---
If you have made it to the end of this interview then be sure to follow Rose on her social media and YouTube channel. I have linked her accounts under her Twitter and IG names I mentioned above. A BIG thank you to Rose for letting me conduct this interview! I am always happy to share amazing content creators and I couldn't have been more thrilled to have you on my blog today. You're a rockstar girly! Please keep creating fanatical cosplays and YouTube videos! You're definitely going places in the future ❤ That is going to do it for me today my pandas. I'll catch all of you in my next post! MUAH! XOXO
---
Disclaimer: All imagery and photos come from searching for them on the internet. I have no claim or right to them. If I find any links I will always post them (this usually entails fan art or any other work affiliated with an artist).