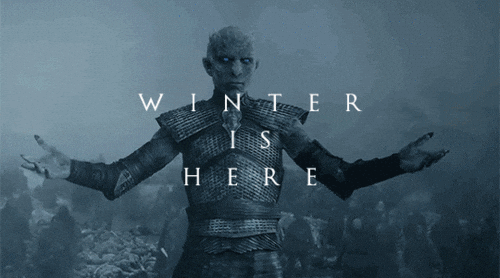 Ya know…I still haven't seen a single episode of Game of Thrones…but I felt like this gif was perfect for today's post. That's right my pandas! Winter anime season is upon us. Welcome to a new season and a new year. Man oh man! I can't believe we are already into 2019. The countdown to my birthday starts now. My birthday is January 23rd in which I will be 29 years young. How time flies when you are having fun or in this case when you don't know what the hell you are doing with your life. Just kidding! I have to say my late 20's have been some of the BEST years of my life. I am more confident in who I am as a person, I have a caring boyfriend who accepts me for who I am (and my slight obsession with anime), and I have made it past two years of blogging (which I didn't think was going to happen when I first started out). 2018 started out a little rough but around late spring is when everything started to look a little better. I am going into 2019 with a positive mind and an open heart ❤
I hope everyone had a good holiday season. I know I sure did! I got everything I wanted for Christmas. Lots of anime series and anime themed merch. What more could an otaku ask for? Nothing. The answer is simply nothing. Anime stuff is more than enough for me! What was your favorite thing you got for Christmas (if you celebrated this year)? If you follow me on Twitter then you would know my boyfriend got me the limited edition box set of Kimi no Na wa (Your Name) and the limited edition steel box edition of Houseki no Kuni (Land of the Lustrous). I also got this beautiful art print of Wicked Lady from Sailor Moon that I have been DYING to have for the last few months. You can say he's definitely a keeper!
Alright, alright. You guys didn't come here to listen to me talk about Christmas presents I got or my boyfriend. You came here to see what I'll be watching for winter anime season! Surprisingly enough this season will be another small one for me. I mean…comparatively small in comparison to how many shows I usually watch. This list will not include leftovers or continuing series I will be watching. Leftovers include Run with the Wind, Karakuri Circus, and Sword Art Online: Alicization. Continuing series I will be watching during winter season are the Morose Mononokean season 2 and Kakegurui season 2. I would be watching Date A Live season 3 if I had ever finished season 2. Whoops! XD
Today's post is easy peasy per usual. I will be stating the anime title(s) I will be watching with the trailer and anime synopsis underneath. Y'all already know how these post work by now 😉 Let's get right to it!
---
1. Boogiepop wa Warawanai
Anime synopsis:
"There is an urban legend that tells of a shinigami that can release people from the pain they are suffering. This "Angel of Death" has a name—Boogiepop. And the legends are true. Boogiepop is real. When a rash of disappearances involving female students breaks out at Shinyo Academy, the police and faculty assume they just have a bunch of runaways on their hands. Yet some students know better. Something mysterious and foul is afoot. Is it Boogiepop or something even more sinister…?"
---
2. Gotoubun no Hanayome
Anime synopsis:
"A high school romantic comedy with five times the cute girls! A high school boy must work part-time to help five sisters study so they can graduate, but the only thing these quintuplets have in common is that they all hate studying!
Five girls who want to do anything but study, and their tutor: a high school boy who's got book smarts and not much else. Fuutarou Uesugi took the tutoring gig because he was desperate for cash, but when his students—the five beautiful daughters of a wealthy businessman—find five times the excuses to slack off, what can he do?! At this rate, the sisters won't graduate, so if he wants to get paid, Fuutarou must think of a plan to suit each of them… Which feels hopeless when five out of five of them think he's a loser!" 
---
3. Dororo
Anime synopsis:
"A samurai lord has bartered away his newborn son's organs to forty-eight demons in exchange for dominance on the battlefield. Yet, the abandoned infant survives thanks to a medicine man who equips him with primitive prosthetics—lethal ones with which the wronged son will use to hunt down the multitude of demons to reclaim his body one piece at a time, before confronting his father. On his journeys the young hero encounters an orphan who claims to be the greatest thief in Japan."
---
4. Domestic no Kanojo
Anime synopsis:
"Natsuo Fujii is in love with his teacher, Hina. Attempting to forget his feelings towards her, Natsuo goes to a mixer with his classmates where he meets an odd girl named Rui Tachibana. In a strange turn of events, Rui asks Natsuo to sneak out with her and do her a favor. To his surprise, their destination is Rui's house—and her request is for him to have sex with her. There's no love behind the act; she just wants to learn from the experience. Thinking that it might help him forget about Hina, Natsuo hesitantly agrees.
After this unusual encounter Natsuo now faces a new problem. With his father remarrying, he ends up with a new pair of stepsisters; unfortunately, he knows these two girls all too well. He soon finds out his new siblings are none other than Hina and Rui! Now living with both the teacher he loves and the girl with whom he had his "first time," Natsuo finds himself in an unexpected love triangle as he climbs ever closer towards adulthood."
---
5. Doukyonin wa Hiza, Tokidoki, Atama no Ue.
Anime synopsis:
"Mystery writer Mikazuki Subaru, who isn't good at dealing with people, finds them to be a disturbance when it comes to building his imaginary world. One day, he chances upon a stray cat and feels inspiration strike, so he brings the cat home as his muse.
Can watching the inexplicable behaviors of a cat form material for a novel?"
---
6. Kaguya-sama: Love is War
Anime synopsis:
"Considered a genius due to having the highest grades in the country, Miyuki Shirogane leads the prestigious Shuchiin Academy's student council as its president, working alongside the beautiful and wealthy vice president Kaguya Shinomiya. The two are often regarded as the perfect couple by students despite them not being in any sort of romantic relationship.
However, the truth is that after spending so much time together, the two have developed feelings for one another; unfortunately, neither is willing to confess, as doing so would be a sign of weakness. With their pride as elite students on the line, Miyuki and Kaguya embark on a quest to do whatever is necessary to get a confession out of the other. Through their daily antics, the battle of love begins!"
---
7. The Rising of the Shield Hero
Anime synopsis:
"Stories of old tell of four otherworldly heroes—wielding the sword, spear, bow, and shield—who defended the land from wave after wave of calamity. With the fate of the world in balance, the kingdom of Melromarc summons these legendary figures; in modern-day Japan, the call is answered, and the unwitting heroes are transported to this fantasy universe.
Thrust into Melromarc and given the title of "Shield Hero," otaku Naofumi Iwatani is labeled the weakest due to his lack of offensive capability and apparent inexperience. When the heroes part ways to start their journeys, he only has one willing companion: the beautiful princess Malty Melromarc. However, she soon betrays him, steals all his money, and accuses him of taking advantage of her.
For his alleged crimes, Naofumi is branded a criminal and made outcast of society. With hatred filling his heart, he sets out alone, vowing vengeance against those who wronged him."
---
8. The Promised Neverland
Anime synopsis:
"At Grace Field House, life couldn't be better for the orphans! Though they have no parents, together with the other kids and a kind "Mama" who cares for them, they form one big, happy family. No child is ever overlooked, especially since they are all adopted by the age of 12. Their daily lives involve rigorous tests, but afterwards, they are allowed to play outside. 
There is only one rule they must obey: do not leave the orphanage. But one day, two top-scoring orphans, Emma and Norman, venture past the gate and unearth the horrifying reality behind their entire existence: they are all livestock, and their orphanage is a farm to cultivate food for a mysterious race of demons. With only a few months left to pull off an escape plan, the children must somehow change their predetermined fate." 
---
9. Magical Girl Spec-Ops Asuka
Anime synopsis:
"Due to the invasion of Disas—enigmatic creatures of soil from the land of the dead—mankind, who was on the verge of crisis, was saved by the efforts of magical girls who had obtained a mysterious magical power…
Three years later, new incidents suddenly occur, tearing apart the normalcy of the girls who had each returned to their normal lives. The saviours of humanity, those magical girls called "The Magical Five" now live each day fighting for their lives, even as they are trifled with by fate…"
---
10. Egao no Daika
Anime synopsis:
"On a planet far from Earth, there is a kingdom full of smiling faces. Princess Yuuki is 12 years old, and about to enter a sensitive age in a person's life. Everyday, she cries, laughs, and sometimes, her heart throbs with excitement. All the while, she lives merrily in the royal palace.
Filling her days are her loyal vassals: her tutor Reira, Izana who assists in political affairs, the leader of the chivalry Harold … and then there is her childhood friend and aide Joshua.
"Yuuki! If you have spirit and guts, you can do anything!"
"…No, not this again! Joshua, be nobler!"
Stella is 17 years old and a capable, reserved soldier. However, she is always smiling … for smiling is essential to living.
This is a story of two girls born on distant planets."
---
Anime I want to watch but I'm still unsure about:
How clumsy you are, Miss Ueno
Anime synopsis:
"The story centers on Ueno, a genius inventor who is in the third grade at her junior high school. She also serves as the head of the school's science club and secretly falls in love with one of its members, second grade student Tanaka. Using her eccentric inventions, Ueno tries to confess her love to him indirectly. But her attempt always ends in failure."
---
Like I said…there is are a lot more anime series going on for winter season but these are all the shows I am most interested in. I am trying to cut out shows that I know are going to be flops or things I would eventually get bored of and drop half way through. I actually completed all of the shows I said I was going to watch for fall season so that's an accomplishment for me! Summer anime season this last year kinda dragged on and I knew I needed to do something to get me out of my boredom slump. Hence why I am watching less shows this time around. What new series are you most excited for? Which continuations are you happy to see back? I know I am stoked that Kakegurui and the Morose Mononokean got second seasons! Two series I really enjoyed when they first came out. As always thank you for joining me my pandas. I'll catch you all in the next post! 😀
---
Disclaimer: All imagery and photos come from searching for them on the internet. I have no claim or right to them. If I find any links I will always post them (this usually entails fan art or any other work affiliated with an artist).