It is with a heavy heart that I write this post to you all.
Kyoto Animation on Thursday in the early morning was set ablaze by an arsonist. I actually found out about this attack from Tsubaki Wednesday night around 10:30 pm my time since we live in America. Some people didn't make it in the fire, and many others are in critical condition. This is devastating news for the anime community. Kyoto Animation has a special place in many people's hearts…especially mine, Tsubaki, and Alexie's. Today we have collectively come together to express our gratitude for KyoAni. Today we write you all of you what Kyoto Animation means to us. In show of support KyoAni now has a GoFundMe page up if you would like to donate. You can do so here: https://www.gofundme.com/f/help-kyoani-heal. Honestly, every single dollar helps.
Please enjoy our letters ❤
---
From Ayano–
"Dear Kyoto Animation,
A myriad of thank you's wouldn't be enough in the way of words to describe what your studio means to me. Your works have given me life, given me hope, given me a magnitude of emotions that conjure up every time I watch one of your shows. I am simply bewitched and in awe of everything your staff has done over the last decade. I fell in love with your works a short time ago, but it wasn't until Violet Evergarden that I fell head over heels in love with your studio. But we simply can't forget all the wondrous shows that paved the way for Violet Evergarden. Full Metal Panic, Clannad, Lucky Star, K-On!, Hyouka, Tamako Market, Free!, Beyond the Boundary and countless others are just the tip of the iceberg. Each show special and unique in its own way. Every show leaving a faint imprint on each individual's heart.
I could probably write an arduous novel on what Kyoto Animation means to me. I could write and write and write until my heart burst from contentment, but I'll have to save that idea for another day. Kyoto, you make everything seem so effortless, so fluid, so languid. Your characters, your art style, the way you breath life into the smallest details in a series baffles me. I have to tip my hat off to you. Just like P.A. Works, you make the mundane world of reality bearable with your phantasmal stories. You make the watcher feel like they are escaping their woes and problems in a matter of seconds. That right there is a feat within itself. Not many storytellers can achieve this, especially multiple times with multiple series. But here you are…proving everyone wrong.
Kyoto, you have set the standard of what it means to be an individual animation studio. You achieved your very own style through establishment and hard work…and that hard work has definitely paid off. Fans can recognize your animation style from a mile away. I know I can! Setting yourself apart from the rest of the pack is what makes everything you have done up until this point worth it. Every single detail you have put into your animation to make it seem real is all worth it. Everything you do and will continue to do after this…is WORTH IT. I believe in you. We believe in you. Everyone believes in you.
I have no doubts that you will continue to pave the way for anime in the future. You have set the bar quite high Kyoto. How high others are willing to jump is up to them. In the wake of all this chaos, mixed feelings, and devastation I know you will bounce back from this. You'll once again bring us laughter, you'll bring us tears, you'll bring us smiles, and you'll put our ill begotten feelings to rest if only for a little while. Please remember that your fans love you. We support you. We will lift you up when you are low. We will carry you even in your darkest of times just as you have done for us. Just as you WILL do for us.
I love you Kyoto Animation.
And I always will.
Love,
Ayano"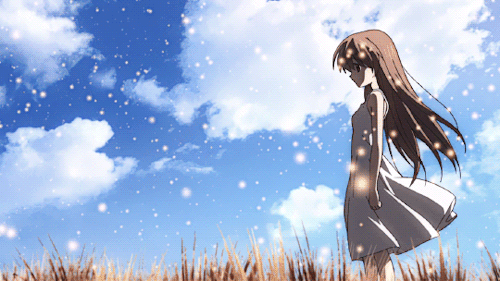 From Tsubaki —
"Kyoto Animation,
You work means a lot to me. It has touched my life and I am sure it has touched many others. Koe no Katachi (A Silent Voice) was a movie that changed my life for the better. When that movie came out I was in a dark place within my depression. I had suicidal thoughts swarming my mind, but when I watched Koe no Katachi (A Silent Voice) and saw what the characters went through to overcome their depression/suicidal thoughts it made me think about my own life. In the end…I broke down crying. Seeing these characters overcome their depression made me realize that I, too, could also find happiness and meaning to my life. It made my heart happy and full.
Thank you for creating content that brings happiness and joy to the hearts of many. You guys can really say that your work saves lives.
My heart broke when I found out that your studio was attacked by an arsonist. I was sad to hear that many of your employees were seriously injured, and some even died. My prayers go out to everyone who works at Kyoto Animation.
-Tsubaki Kuro"
From Alexie–
"Kyoto Animation, or KyoAni, is a studio that has touched the hearts of countless anime fans. I know for a fact I'm one of those fans. From works like Free! and Tsurune; Clannad and Amagi Brilliant Park; to A Silent Voice and Violet Evergarden, Kyoto Animation has been one studio that I can always count on to give breathtaking visuals and stories that have heart embedded in them.
I remember when I first saw Violet Evergarden pop up on Netflix. It was a show I knew nothing about, but the pictures I saw were enough to get me to click on the title and see what it was about. And then I started reading about the source material and watched every episode in two days. The visuals were astounding. The music was a delight to hear, and the animation quality? Absolutely top-notch. The way clothes moved, the way hair moved, the way the characters smiled and laughed and interacted with each other…
My favorite part, though, was the introduction we got during Violet Evergarden when Violet was walking the streets with Major Gilbert and she saw the necklace. Violet stopped and said it's the same color as Major Gilbert's eyes. And throughout the series she was constantly trying to figure out her feelings–about how she felt regarding the major, about how she felt about herself, and about how she felt about the world.
What Violet Evergarden did for me with that simple scene, was give me a chance at finding a writing spark again. The emotions that played throughout a simple scene showed me just how powerful a single picture in one's mind can be. So I started writing a poem, and kept watching that scene over and over again, hoping I would find another spark that I hadn't gotten the first few times. And eventually I did. I revised that poem, and submitted it to the literary journal of the university I was attending. After months and months of waiting, I received an e-mail saying my poem (which I had titled "The Major") had been selected for inclusion to the journal. A simple scene from an emotional anime that broke my heart and made me break down before the end, where I was bawling my eyes out from episode 8 through episode 13, was enough to get me to try my had at writing poetry again, and with the emotion I felt while watching Violet Evergarden, that emotion came back in force for me during my writing.
Violet Evergarden was my spark to get myself writing again, which is something I enjoy, and even then, Kyoto Animation was the studio behind that. Their work in getting Violet Evergarden from light novel to the television screen, with an OVA that dropped a year later, was an absolute treat of emotional ruin and love. Kyoto Animation is more than just a studio because it has touched the hearts and minds of so many people.
I remember when Tsurune came out and I decided to watch that show for the season it aired. The colors and subtle movements of the clothes, the hair, the wind and bow strings, the sounds of each arrow being shot… Each aspect of that show was a delight to see and listen to. And the final episode, where our main character Narumiya narrates the steps of readying a shot in their final kyuudo match without having to pay any attention to his teammates was brilliantly done. Each small movement was so perfectly animated, the colors were vibrant, and the final shot, with the leaves blowing and Narumiya holding his bow perfectly with Masa-san in awe of his form…it was breathtaking. I haven't had many anime make me stop, pause, and stare at a single moment for so long. Kyoto Animation did that, and I remember having to tell myself to close my mouth. Everything about that show, with the colors and the animation and the music.
Kyoto Animation is the only studio to make me pause and re-watch specific scenes from anime. I haven't been one to continually go through one or two scenes in a show until I saw one from KyoAni. They're a fantastic company that truly makes shows vibrant and moving and emotional. Each portion of their works that I have seen (and it's been more than just the two I've listed) have been ones that I can remember more than any other studio's work.
Kyoto Animation is a studio that means love, connectivity, heart. To me, KyoAni means emotion. Their work has brought tears to my eyes multiple times, has made me laugh and cry and stare in awe at the amount of effort and heart they put into their work. Thank you, KyoAni, for making such amazing works available to us, for putting your heart and soul into the medium that you love, and making me fall in love with anime over and over again each time I watch your works. You are special, and nothing can replace that. My heart breaks for the losses suffered, but you'll always be dear to me in so many ways.
-Alexie"
---
Disclaimer: All imagery, photos, and gifs come from searching for them on the internet. I have no claim or right to them. If I find any links I will always post them (this usually entails fan art or any other work affiliated with an artist).