Oh don't mind me over here, just invading this blog for a while.

All these new faces, I understand dear you don't want to be overwhelmed but Hi there I'm Lita! I'll be taking over your Sundays for a little while to help out the amazing Ayano and others who run this fun ani blog. The only thing you need to know about me is I do too many things on the internet but that has been cut down a lot currently, I run my own anime blog (LitaKinoAnimeCorner) come check out if you wish. Oh and I never shut up about anime, hope you enjoy the randomness in my content.
---
10th January is a very special day. . . after two years those loveable volleyball boys return to us with season four premiere of Haikyu. Within past two weeks finally got around to my re-binge of this sports series as a refresh, be prepared !!. Haikyu has been one of few series falling over heels for to want to rewatch, second round was much more enjoyable than the first. Watching anime for long as I have, there are things you begin to notice more, you become more conscious of. All the little details left uncovered, arising to you newly and you're like " how the hell do you miss that".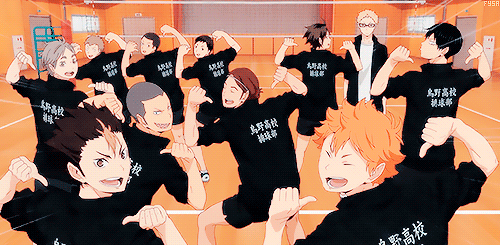 My second round of Haikyu uncovered obvious thing, for what I found ultimately beautiful Karasuno's under dog journey in the beginning. Under dog journey in anime, don't know what it is about but the medium knows how to suck in viewers. Particularly I've found in the shonen and sports setting, exudes a personal relation essence within ourselves that hits like a baseball just smacked you in the face. Made me ask the question:
What is this irresistible pull for underdogs?
---
The underdog trait never seems to change a team or individual starting or rising up from rock bottom to reach for their ultimate aspirations. Always high reaching goals rather than lower goals. Anime has special ability to me drawing out every ounce in character or groups journeys, the many hurdles to jump over, the defeats, the winnings and finally reaching that "place". BUT this gets old for many on CD repeat, craving for fresh ideas be brought to the mix.
I get you there, I'm all for that with how anime has grown since getting to it.
Though the underdog journey for me never gets old, it's different always for every focused character. . . and there it is: Characterisation
The ability of how characterisation utilises to create these inspiring journeys that touch every part of feels and go through five million tissues. Two underdog journeys that are in my top 5, Haikyu, Karasuno if not obvious. Haikyu knows it's characters, I don't mean just main teams but EVERY CHARACTER whether side or minor. The first two seasons are 25 episodes each, my second watch made me realise how much is jam-packed into this time frame. Alongside comprehending the level of time given to not JUST the main characters. Haikyu's screamed hype lives up to true statement, opposing teams you don't think you'll give a crap about but tiny moments how these teams unite, reasons for competing. These small additions are what make this series stand out and utilises that to the fullest.
Until watching this series, I'd never known a series utilise all it's cast far beyond you'd expect.
Well: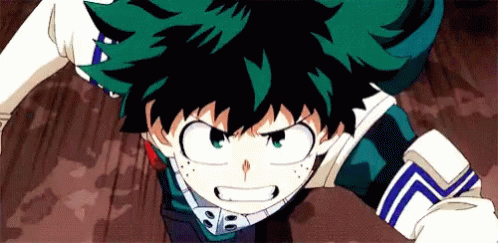 ---
Back in September I finally caught up to My Hero Academia, and no that season four I'm waiting to binge – can't do weekly for this. You want me to go though that torture? Haha.
After Haikyu I thought another series couldn't utilise it's characterisation like those volley ball freaks. How wrong I was. It wasn't a baseball coming to whack me but a proper sucker punch in the gut from a boys wish to become a hero. My Hero Academia world concept acts as perfect foundation support towards Izuku Midoriya dream and alongside class 1A own aspirations. With every new feat from Midoriya has me crying puddles, add closely behind this classmates chase their own dreams, you're left practically broken.
I recently got my friend into My Hero Academia and she couldn't get over how quickly invested she was, not just with Midoriya but rest adoring children. My Hero Academia and Haikyu under dog focuses are winning best sellers for how strong characterisation is utilised. Without that sole or multiple attachment the whole thing falls apart. The winnings, defeats everything becomes meaningless and you'll feel nothing. You want to feel that adrenaline rush from every gain and loss that comes the underdogs way and I want to feel that spark of joy this undying trait gives me.
If you have not ventured into My Hero Academia or Haikyu, I'll kindly inform you, you're missing out BIG TIME!. The buzz hype around these series is worth EVERYTHING BREATHE. Dive in and join obsessed us like myself !!
---
I do hope you enjoyed this post and it would be so wonderful if you commented below:
What is an under dog journey that utilises strong characterisation for you?
Happy 2020 Also forgot to mention at the beginning. I'm looking forward to my future write ups for here!!
I'll see you all next Sunday!
LitaKino