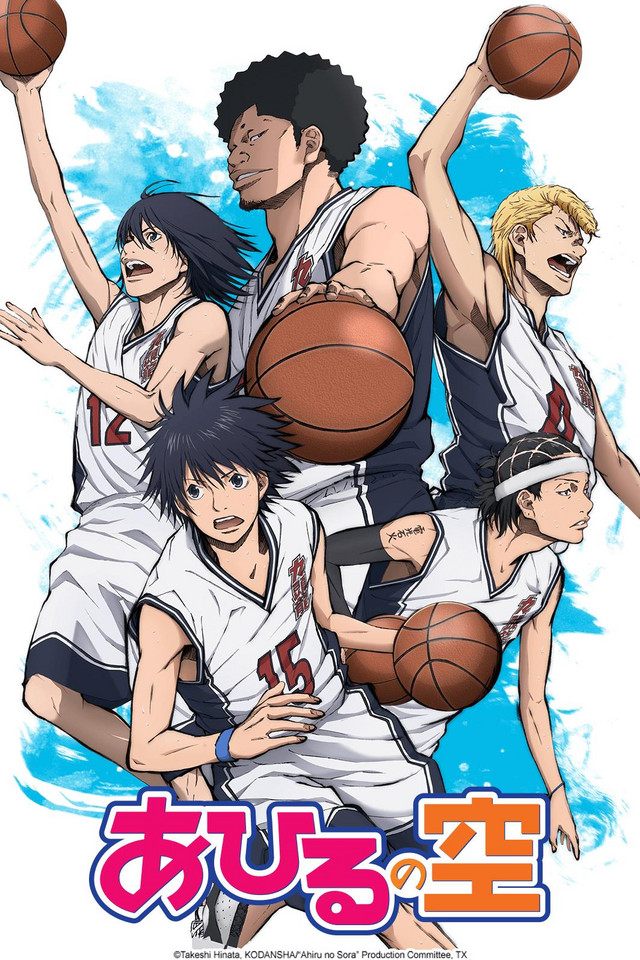 I'm currently caught up in a sports rut and wanted to spotlight a current seasonal deserves some attention for not being outstanding but that's what makes it great.
Hope you have a wonderful Sunday ahead or currently is. Sunday has been my favourite day of the week since I can remember, something about it that exudes the relaxation feel it's weird. For this week I wanted to spotlight a seasonal from Fall 2019 that am actually keeping up with, haha.
Alongside American baseball I've always had mass thing for next to basketball. Ahiru No Sora (Sky of Ducks) came lucky to being my first basketball anime, Kuroko No Basket sorry. No secret I'm drawn to series that won't be on people's radar, they always make onto my list. Sora Kurumatani is a basketball freak upon entering high school dreams of joining the club and going to interhigh competition. Discovering the basketball club is a delinquents group hangout is disappointing. Sora becomes determined to revive this club along affecting those join the club.
---
Delinquents Sprout
Ahiru no Sora plot has sports standard, a team climbing up the ladder and growth occurs. A group of delinquents who will be reformed through basketball the series has it's bearings already for this direction and I've been loving it so far. First episode won't impress right away, an over optimistic protagonist who is like another Hinata, sports loving freak. Group of delinquents not having redeeming quality, no regard for their own worth and bunch of slight pervs. This group of idiots combine has a charm factor thats makes not want to stop watching this series.
The series is imperfect but I don't feel to point out everything addressing already, Momoharu grease style hair cut, Chiaka's constant persistence of females, Sora's uncanny determination can be overbearing. Imperfections are perfections in everything, these are just a few for Ahiru No Sora. Already from watching 11 episodes, the growth has been at a steady pace but slated for 50 episodes, have a feeling will morph into something great.
A group of idiots always have the redeeming quality of being hysterical. Sora and the others chemistry make this work effortlessly, letting their perv sides show fleshes out the quality even more. Particularly in episodes 10 to 11 this shines and currently favourite episodes. To tell you favourite idiot out of this group is Momoharu, the calm collected type who get flustered easily are always so fun . . . but that cone hair cut has to go haha.
---
One endearing aspect I love about this series is Sora's basketball roots. His mum was a famous basketball player but had to hospitalised due to an illness. Sora refuses to see his mum till he's fulfilled his promise to her. It's a stupid thing at first to keep seeing, not going to see your mum but the bond between this mother and son got me, it's really precious. Specially Sora refuses to wear any other shoes other than his mum's. Sora still keeps in contact with his mum on a constant basis so I can let it slide though it might annoy others.
Slowly in first few episodes you learn minor root points for main characters and connection to basketball, there is a focus in episode 9. That. . . was a strike in the face is all I'll say. There has been the odd intense moment throughout but what do you expect from a group of punks, haha. The characters connections to basketball, only just scrape the surface and can't wait to uncover more particularly for brothers Chikai and Momoharu.
Ahiru No Sora currently I've been watching during my gym sessions and bringing all the fun factor to make it through the treadmill section, haha. So, How do I feel about this being my first basketball anime? This group of duckling idiots are hysterical, fun and they motivate me through my treadmill time. Whole series is a good stupid time and there is nothing wrong with needing stupid. If you are looking for that Ahiru No Sora give a whirl, you won't have much to loose promise.
---
When I said last week content would be random, you can see I meant it haha. If you have been watching this series, what are your'e current thoughts?
Hope you enjoy this Sunday with me!!
I'll see you all next week!
LitaKino